Original Publication Date: 15 April, 2014
Authors: AB SCIEX

Overview of peptide and protein quantitation applications on the AB SCIEX QTRAP® System and the TripleTOF® System.
The importance of biotherapeutics as a class of drugs has increased significantly over recent years due to their enormous potential to treat a wide array of human diseases ranging from autoimmune and inflammatory diseases to cancer, cardiovascular diseases, and rare genetic disorders. These highly promising therapeutic agents, including very small peptide chains, such as insulin, up to much larger proteins, such as antibodies and novel Fc-like fusion proteins, are extremely attractive as drug candidates because of their low toxicity and high specificity, and these compounds continue to fill the pre-clinical and clinical pipelines of many pharmaceutical companies.
The rapid growth of biotherapeutics is a good indicator of its success, with the global market valued at around US$199.7 billion in 2013 and projected to grow by 13.5% through 2020. The number of clinically approved protein and peptide therapies has jumped to over 170 products with 350 antibody based therapies currently awaiting clinical trials, making biotherapeutics the fastest growing class of drugs in the last decade. With increasing industry interest and investment and rising demand from the medical community for these unique, targeted therapies, there is a growing requirement to develop high-throughput analytical techniques to expand biotherapeutic product lines.
Click here to download the PDF version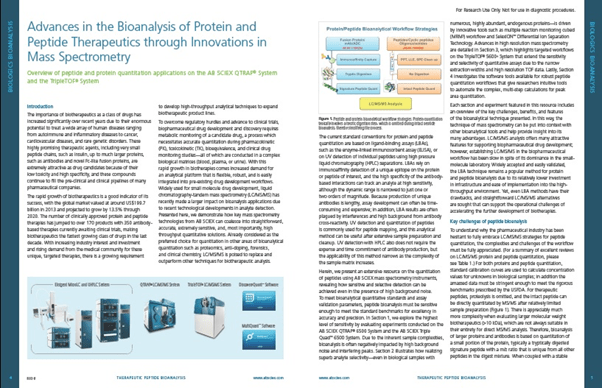 Learn more at www.absciex.com/customersupport, or locate your local account representative at www.absciex.com/contactus