By:
Robert MacNeill, Envigo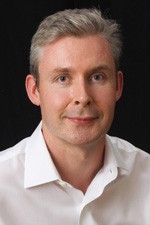 Robert MacNeill received his Bachelor's degree with Honors in Chemistry from Heriot Watt University then his MSc in Analytical Chemistry from the University of Huddersfield, both in the United Kingdom. Robert is also a Chartered Chemist and Member of the Royal Society of Chemistry. With 18 years of experience in all aspects of quantitative bioanalytical LC-MS/MS method development, nine of these years heading method development activities within HLS/Envigo, and a regular author and peer reviewer for the journal Bioanalysis, Robert is a recognized expert and innovator in the field.
In his current role Robert coordinates all LC-MS/MS method development and associated training, takes the lead in keeping abreast of innovation and technological development in the industry, leads in-house research projects and performs technical writing for the purpose of producing publications.
---
Recently, whilst attending a very useful exhibition, I was momentarily shocked in conversation to hear mention of the idea that SPE may be becoming obsolete. A moment later I was better appreciating the context, i.e., this was coming from a vendor of extraction media who was conveying the message that there are now well-established sorbent-based alternatives if something more than dilution or deproteinization is required for a quantitative bioanalysis. These alternatives do hold much interest and will be discussed in subsequent installments of this column. However the notion of SPE dying out, and the circumstances of coming across it, continues to perturb me. Should there have been surprise in hearing this? Possibly not so much in terms of analysis of small molecules as opposed to peptides, but this is where we begin to go into all the 'ifs' and 'buts' that amount to the old adage of compound dependency, and the fit-for-purpose determinant. Also it must be stated that, on a personal level, there cannot be much doubt that having a happy history of successful bioanalytical application of SPE would endear the technique to me.
It isn't so much the association with rugged methodologies that is pertinent to an argument to preserve SPE as a primary extractive tool; it's the reasons for that association. Selectivity, as anyone well-versed in method development knows, is key to rugged quantification.