By:
Robert MacNeill, Envigo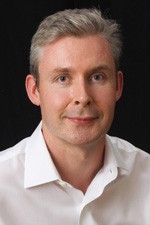 Robert MacNeill received his Bachelor's degree with Honors in Chemistry from Heriot Watt University then his MSc in Analytical Chemistry from the University of Huddersfield, both in the United Kingdom. Robert is also a Chartered Chemist and Member of the Royal Society of Chemistry. With 18 years of experience in all aspects of quantitative bioanalytical LC-MS/MS method development, nine of these years heading method development activities within HLS/Envigo, and a regular author and peer reviewer for the journal Bioanalysis, Robert is a recognized expert and innovator in the field.
In his current role Robert coordinates all LC-MS/MS method development and associated training, takes the lead in keeping abreast of innovation and technological development in the industry, leads in-house research projects and performs technical writing for the purpose of producing publications.
---
In the previous installment of this column, I expressed my surprise at the suggestion that solid-phase extraction (SPE) may be becoming obsolete. I could not resist making an effort to quash the notion, at least in the context of contemporary quantitative bioanalysis and especially in the regulated environment. I also made mention of well-established sorbent-based alternatives to SPE if something more than dilution or deproteinization is required for a given quantitative bioanalysis. Having made my case for the preservation and veneration of SPE, to help complete the picture, the sorbent-based alternatives of supported-liquid extraction (SLE) and phospholipid filtration should be dwelt on as well.
These techniques are of great use and interest at several levels, and are more than worthy of discussion. The most interest, naturally, is in the selectivities attainable and how these could liaise with a bioanalytical LC‑MS methodology. Additionally, there is the aspect of greater simplicity in terms of the typical protocols adhered to. There is considerable interest too, of course, in the reduced costs of these media when compared to SPE.