Conference report: opportunities and challenges in translating cell and gene therapy products
---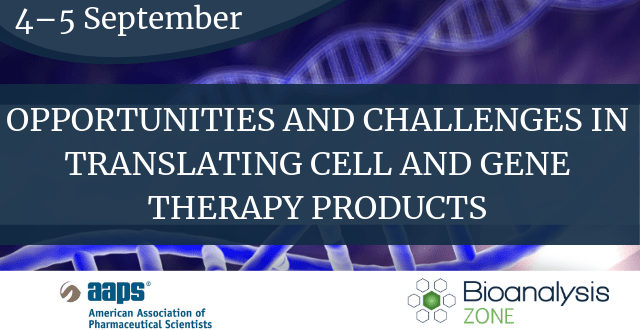 At the inaugural AAPS workshop, Opportunities and Challenges in Translating Cell and Gene Therapy Products (4–5 September, London, UK), scientists came together to discuss cell and gene therapy pipelines across different disease areas and highlighted recent breakthroughs in technology and approach. In this conference report, we highlight key themes discussed and future perspectives that were shared. 
The history of cell and gene therapies
Cell and gene therapies have evolved over the last 20 years with blood transfusions being the oldest form of cell therapy. John Hyllner (AstraZeneca, MD, USA) gave a brief overview of different cell therapy technologies including; ex vivo viral vectors that can be genetically modified, somatic cells, in vivo viral vectors that can be genetically modified, 3D structures, cell immortalization, genome editing and cell plasticity.  
The importance of collaboration and developing preclinical packages for advanced therapy medicinal products
Important advanced therapy medicinal product risk considerations include immunogenicity, tumorigenicity, biodistribution and toxicity. Michaela Sharpe (Catapult, London, UK) discussed preclinical development packages and how GLP compliance of pivotal safety studies is required for all medicinal products entering clinical trials. She emphasized the importance of collaboration and how early discussions with regulatory agencies are key. 
Bioanalytical overview of cell and gene therapeutics
There are different parameters that should be measured when developing gene therapy medicinal products including: what the delivered modality is, the target gene modulated amount, the expressed protein levels, biodistribution and the number of ex vivo modified cells present in vivo. In order to measure these parameters, there are different platforms utilized such as ELISA, PCR, LBA and flow cytometry. Robert Dodge (Novartis, NJ, USA) discussed the sensitivity limitation of flow cytometry for measuring therapeutic concentrations with cell therapies. He explained a solution to this challenge, by using PCR or droplet digital PCR, both quantitative methods for measuring therapeutic concentrations.

Applications of flow cytometry in cell therapies
Flow cytometry is a key technique used for different clinical applications such as measuring safety, PK, PD and ADA. Henko Tadema (PRA Health Sciences, Groningen, The Netherlands) discussed the use of flow cytometry to characterize the modification frequency and functionally, and also PK, PD and immunogenicity.  
As the number of cell and gene therapy products in development continues to increase, it is important to understand how bioanalytical methods play their part in ensuring the success of these novel therapies. 
For a full list of upcoming conferences and events, click here.

---