Ask the Experts: Diego Cortes
---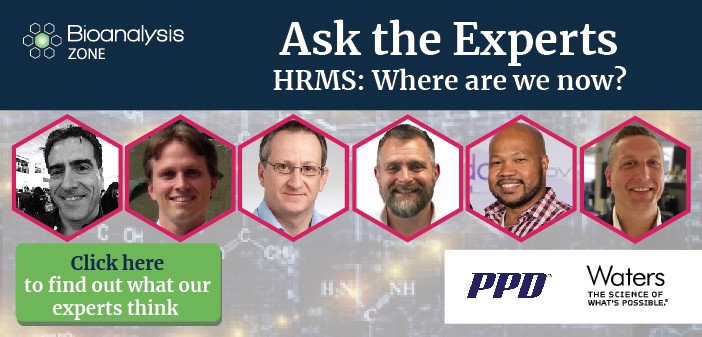 Diego Cortes is a Research and Development Manager with the Chromatographic Sciences Department (CSD) of PPD® Laboratories' bioanalytical lab in Richmond (VA, USA). He received his PhD degree in genetics, bioinformatics and computational biology from Virginia Tech (VA, USA) in 2008. Diego was a Post-doctoral Fellow with the Department of Biology and the Virginia Bioinformatics Institute at Virginia Tech and the Department of Neurobiology, Virginia Commonwealth University (VA, USA). Diego has over 15 years of experience of scientific research in biological sciences, expanding from genomics and bioinformatics, to metabolomics, proteomics, and bioanalysis. He currently manages a research and development team conducting bioanalytical method research and development primarily for protein biotherapeutics using LC–MS technologies.
---
What molecules do you predominantly work with, and (how/why) do you use HRMS for their analysis?
At PPD® Laboratories' bioanalytical lab, we have used high-resolution mass spectrometry (HRMS) to support bioanalysis of small molecule drugs and large molecule biotherapeutics, as well as biomarkers. We first began using HRMS for peptide mapping and protein characterization to support the development of methods using trypsin digestion and peptides as surrogate analytes for large molecule quantitation on conventional triple quadrupole (QQQ) mass spectrometers. HRMS is still a great tool for providing protein/peptide sequence information and for selecting appropriate peptides used as surrogate analytes for quantitation or qualitative purposes.
HRMS has been used in quantitative bioanalysis approaches for a variety of small and large molecules, both digested and intact. More recently, we are applying HRMS to more complex multi-domain protein therapeutics, such as antibody-drug-conjugates (ADCs), where we need to determine the drug-to-antibody ratio (DAR) among some other high-level characterizations using proteomics techniques (e.g., top-down, middle-down, bottom-up). Protein therapeutics are also susceptible to post-translational modifications that can benefit from HMRS to be able to distinguish the native from the modified form. Examples of applications in this category include glycans qualitative/quantitative analysis and asparagine deamidation, both of potential concern in protein bioanalysis. With the resolution power of HRMS, the parent peptide containing asparagine can be selectively detected from the deamidation peptides without chromatographic resolution.
On the small molecule side, the resolving power of HRMS can overcome interference issues encountered with unit-resolution MS instruments and be a major advantage in quantifying certain problematic molecules. However, still in most cases, HRMS is being applied to facilitate method development or confirm the performance of an SRM assay, intended to be used for routine analysis on a QQQ instrument.
Do you use HRMS predominantly for quantitative or qualitative analysis or both? Why?
We are using HRMS for both quantitative and qualitative analysis. The current generation of hybrid HRMS systems offers versatile modes of operation, including full scan, parallel reaction monitoring and survivor SIM. It is difficult to make a blank statement on HRMS use for quantitative or qualitative analysis when there are specific considerations depending on the type of molecule that is being analyzed. For a small molecule, you could get away with using full scan mode for both quantitative/qualitative analyses. However, for large molecules, due to their inherent complexity, including but not limited to multiple charge states and PTMs, generally full scan is used for qualitative analysis and PRM or tSIM for quantitation.
What are the main advantages of HRMS vs triple quadrupole MS?
In the case of HRMS, the ability to perform both qualitative and quantitative analysis is very appealing. From a drug discovery perspective, it is possible to rapidly obtain information not just on the analyte, but also on metabolites and potential biomarkers of interest. As a single platform, LC–HRMS is well suited for high throughput screening. By collecting full spectrum data, post-acquisition data mining can be applied for both qualitative and quantitative analysis, which is not possible for QQQ systems operated in SRM mode, something that is of great interest, especially for research labs. This approach with HRMS carries less weight in regulated bioanalysis where the primary focus is on the sensitive, accurate measurement of the drug in samples collected specifically for PK analysis in toxicology and clinical studies.
The greater mass range of HRMS platforms in comparison to QQQ instruments unlocks the potential for intact analysis of large molecules, both for characterization and for direct quantification.
HRMS offers significantly greater specificity, along with the ability to determine molecule characterization information using high-resolution accurate mass data. If an assay shows interferences using a triple quadrupole instrument, whether it is a biomarker or therapeutic, the HRMS instruments usually can reduce or eliminate that background and improve specificity.
Do you believe that guidance from regulatory agencies is applicable and sufficient? What more could be done?
In general, the current guidance on validating a bioanalytical method appears to be sufficient and additional guidelines may not be needed; regulatory guidelines are not specific with respect to the type of LC–MS platform used. There are several published, small molecule HRMS-based quantitative assays considered fully validated and compliant with current guidelines. However, the bioanalytical community still needs to come together regarding specific recommendations for HRMS-specific approaches and certain parameters, such as the use of mass extraction windows, and how to best apply them in validated methods applied to regulated studies. This could be achieved through White Papers, based on best practices developed within pharmaceutical companies and CROs.
Are there currently any knowledge gaps within the field of HRMS? What could be done to overcome these?
Technology adoption takes time as end users become more familiar with new instrumentation and experience its potential advantages to their specific applications and workflows. There are knowledge gaps, as investigators and researchers in many labs are much more familiar with conventional QQQ technology. HRMS is often viewed as complicated with many options for how to use the technology. It is confusing to many users what approach they should take and how to develop and optimize an assay for their applications. I would encourage people to attend presentations and webinars by 'expert' HRMS users and instrument vendors and stay current with the literature, application articles and HRMS special themed features such as the Bioanalysis Zone Spotlight on Quantitative HRMS in 2017.
A worthwhile exercise is to demonstrate HRMS instruments in your lab, or go to a vendor applications lab and compare their performance with your established workflow, using your own samples if possible.
What are the biggest challenges for adoption of HRMS in your field?
In general, there are several areas to be addressed before LC–HRMS could be more widely adopted in regulated bioanalysis; some of these are technology-related while some are related to regulatory compliance.
While significant strides have been made to improve the sensitivity of HRMS platforms, it is generally accepted that QQQ instruments operating in SRM mode have superior sensitivity. While it is true that HRMS offers clear value to quantitative bioanalysis, driving sensitivity through selectivity, it would be especially advantageous if sensitivity can be improved in future HRMS platforms for large molecule intact quantitation.
Software continues to be a major limitation. Better software packages are needed that can proficiently process the data for both qualitative and quantitative applications and be fully validated to regulatory standards. HRMS has traditionally been applied for qualitative/discovery work, and as a result, the software has been designed mostly for research purposes. In order to facilitate uptake on quantitative bioanalysis, some of the software systems need to be re-engineered for user-friendliness and compliance in routine applications.
There are also regulatory hurdles to using some of the features of HRMS in regulated bioanalysis. The idea of post-acquisition data mining is concerning, both in regard to using an assay to measure something that was not part of the original method validation and in terms of patient informed consent and study protocols governing the use of clinical samples.
Are there any other challenges or limitations that interfere with your work that HRMS could assist with?
With the development of protein therapeutics, one of the current challenges is to understand biologic catabolism and the potential impact on bioanalysis and PK. Recombinant therapeutic protein drugs have advanced considerably in complexity over the years and can be very diverse, with countless possibilities as to how a molecule breaks down or becomes altered when it is in vivo. This makes detection, identification and interpretation of catabolites and biotransformations extremely complex and time-consuming, with significant consequences if something important is missed.
One specific area in bioanalysis where HRMS has been especially beneficial, particularly for small molecules, is chemical structural assignment. This is achieved by a combination of various options and features on HRMS instruments, including assignment of correct molecular formulae and elemental composition for unknown metabolites; and the possibility of calculating change in elemental composition due to metabolic modifications.
With large molecules, characterization of biotransformation can be a great resource on the drug development process. Characterization of biotherapeutic protein biotransformation in vivo is fundamentally challenging with the complexity of potential catabolic products increasing with protein size. This is most definitely a challenging area where HRMS is beginning to be seriously applied to great benefit.
Last year, 81% of respondents to our HRMS Spotlight survey believed that HRMS quantitative and qualitative analysis would increase. What are your opinions on the future of HRMS?
There is very large and well-established base of QQQ instruments, with many experienced users routinely carrying out high sensitivity targeted analysis. With a long view towards the future, is likely that HRMS-based systems, especially hybrid or tandem (i.e., Q-Orbitraps and Q-Tofs) will take over a significant share of both large and small molecule bioanalysis applications. How fast this will occur is uncertain. However, it seems doubtful that QQQ instruments will be completely replaced. A switch to HRMS is more than a change in equipment; laboratories would also need to change their current workflows. A mix of HRMS and QQQ instruments is more likely, with each platform being applied to cost-effectively obtain the desired measurements.
Tandem MS vs HRMS – can you have one without the other?
The short answer is yes, we have been doing it for years. Most likely LC–HRMS will continue to provide significant advantages and be the go-to tool for metabolite profiling and discovery bioanalysis. In regulated bioanalysis, however, HRMS will at least for some time be reserved to those applications where there is a very significant need for MS specificity. In the area of therapeutic proteins and even small molecules we see HRMS as a complementary platform to the QQQ-based mass spectrometers, rather than completely replacing the latter. While significant progress has been made, in order for HRMS to be widely used in routine bioanalytical laboratories, challenges in sensitivity, instrument configuration, software development and regulatory acceptance still need to be addressed.
---