Ask the Experts: Graeme Clark
---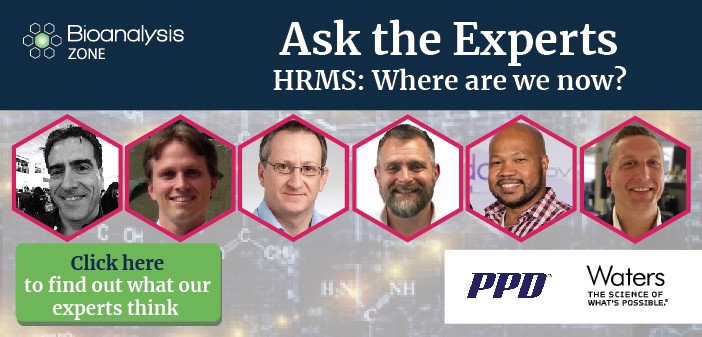 Graeme has been working in the field of Pharmaceutical and Analytical sciences since obtaining his PhD in Bio-organic Chemistry from the University of Southampton (Southampton, UK) in 1999. Capitalising on exposure gained within a wide range of environments (including academia, biotech, large pharma and contract research), he has occupied positions of increasing responsibility over this period and is presently the Group Head of Bioanalysis and DMPK at Concept Life Sciences (Cambridge, UK). His interests in the application of separation sciences and mass spectrometry in the life sciences has provided him with a diverse background having been operationally and technically responsible for functions that include LC–MS based lipidomics, DMPK and Regulatory Bioanalysis (Pre-clinical TK support through to Multi-Site Phase IIb clinical Studies). His current interests include application of LC–MS in support of biopharmaceutical analysis, microsampling techniques and unlabelled, trace analysis of microdosing samples. Regularly invited to present at national and international conferences, Graeme is also heavily involved with the Drug Metabolism Discussion Group (DMDG), acting as a course organiser for their biennial, 3 day large molecule training course as well as actively being a part of the Scientific Sub-committee which organises the annual open meeting.  Graeme is a Fellow of the Royal Society of Chemistry (FRSC), Royal Society of Biology (FRSB), a chartered chemist and scientist. He has authored over 20 peer reviewed articles as well as several book chapters on the application of LC–MS in the pharmaceutical environment.
---
What molecules do you predominantly work with, and (how/why) do you use HRMS for their analysis?
At Concept Life Sciences we work with everything from traditional 'small molecules' through to large proteins and antibody drug conjugates. We traditionally use HRMS for the traditional small molecule metabolite identification and structural elucidation studies, but we are witnessing a growth of HRMS in the support of absorption, distribution, metabolism and elimination/ pharmacokinetic (ADME/PK) studies as this not only removes the need for upfront multiple reaction monitoring (MRM) optimization (needed in ADME screening triple quadrupole workflows), but also facilitates retrospective analysis for metabolites.  Support of biotherapeutic modalities, such conjugated peptides and antibody drug conjugates as intact measurements, with high-resolution accurate mass (HRAM) are also becoming increasingly more common in understanding in vitro and in vivo metabolic profiles.
Do you use HRMS predominantly for quantitative or qualitative analysis or both? Why?
HRMS is still predominantly used for qualitative studies i.e. metabolite identification and structural elucidation, however early stage ADME screening, PK studies and biotherapeutic modalities have increased the need to apply the technology within a quantitative arena. In all cases, the use of HRMS in an 'all the data all the time' environment is facilitating the collection of richer data sets from studies that aid faster, better decision-making processes at a project level.
What are the main advantages of HRMS vs triple quadrupole MS?
As mentioned, HRMS allows the scientist to collect a much richer data set. This facilitates, for example, initial analysis for parent compound in PK samples, but then a subsequent 'deeper dive' for circulating metabolites and/or biomarkers. The trade-off for this is that data management can be an issue, with HRMS file sizes considerably larger than triple quadrupole. Additionally, HRMS systems are far less forgiving with any drift in mass calibration and as such can be considered 'less robust' than triple quadrupoles in a production environment.
Do you believe that guidance from regulatory agencies is applicable and sufficient? What more could be done?
Regulatory agencies do not preclude the use of HRMS in quantitative environments and if the technology was required to offer the necessary level of selectivity, (and backed up with scientific rationale), I do not believe there would be any resistance. What would be useful is an understanding from these bodies of how many, if any, submissions have been made to them using the technique. There will always be a reluctance to adopt a technology if companies feel the regulatory agency will push back on its use and as such a concern over 'who's going to jump first?' will always exist.
Are there currently any knowledge gaps within the field of HRMS? What could be done to overcome these?
HRMS is a more complex system than triple quadrupoles, and training to end users is essential to ensure the correct data is being collected and interpreted.  A minor slip in mass calibration of an HRMS system, followed by an extraction of data within a 10mDa window could result in a major mismeasurement of the analyte in question.
What are the biggest challenges for adoption of HRMS in your field?
The biggest challenges are addressing the concerns around regulatory acceptance of data. In addition, due to the much larger file size associated with HRMS, data management (back-up, archiving etc.) needs to be looked at.
Are there any other challenges or limitations that interfere with your work that HRMS could assist with?
HRMS is a form of mass filter. Whilst increasing resolution offers more power datasets for macromolecular analysis, such as proteins, for small molecule metabolite profiling and metabolomics approaches, broadening the chemical space that the ionization mode operates in would prove more beneficial.
Last year, 81% of respondents to our HRMS Spotlight survey believed that HRMS quantitative and qualitative analysis would increase. What are your opinions on the future of HRMS?
As the linear dynamic range lowers limits of detection and price brackets now rival triple quadrupoles, I believe the uptake of HRMS will continue to increase. Modern HRMS ability to collect not only MS but MS/MS (of all analytes) in UPLC timeframes will continue to supply more and more information to the scientist and provide a complete 'answer' the questions they are asking.
Tandem MS vs HRMS – can you have one without the other?
This is very environment specific. In a pure research environment such as academia or drug discovery, HRMS can supply all your needs, however as one moves into a more regulatory or clinical diagnostic setting where ultimate sensitivity is required, and/or the work fits more a production like environment, the increased robustness of tandem MS I feel is still necessary (for now).
---