Bioanalysis Rising Star Award
Meet the Judges | Why nominate? | Previous years | About Bioanalysis Zone | About Waters Corporation
---
Our mission statement
The Bioanalysis Rising Star (formerly the New Investigator Award) is an annual prestigious award recognizing the most promising early-career scientists in the field of bioanalysis. Sponsored by Waters Corporation (MA, USA), our vision is to promote the work of highly talented researchers offering a springboard to help establish themselves in the exciting world of bioanalysis.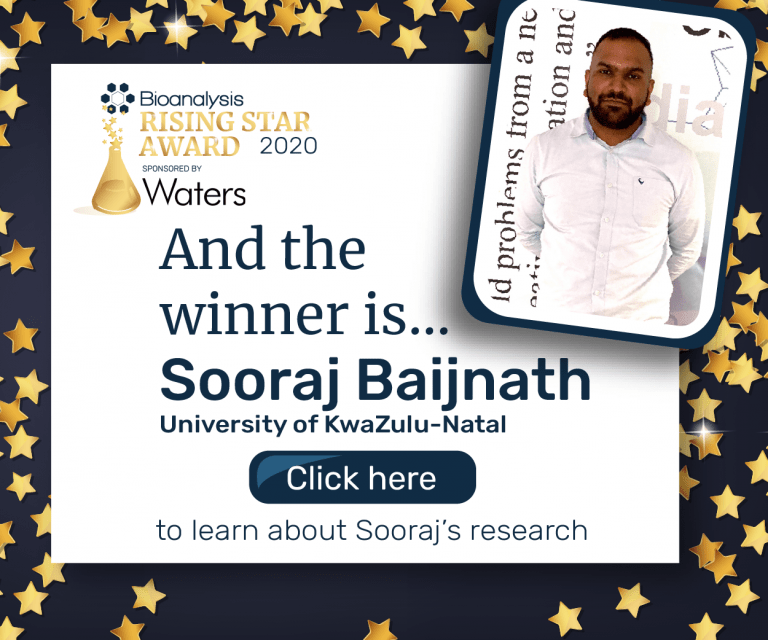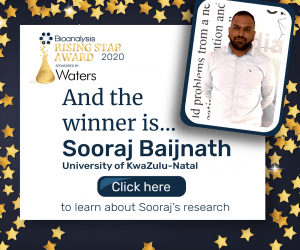 2020 finalists
2020 nominees

Amanda Hays |PRA Health Sciences
Ashley Ross |University of Cincinnati
Ben Nie |Q2 Solutions
Benoit Fatou |Boston Children's Hospital
Chris Williams |QPS
Danielle Moncrieffe |King's College London
Elancheran Ramakrishnan |Annamalai University
Erika Pfaunmiller |Frontage Laboratories
Eylan Yutuc |Swansea University
Ian Dawson |Covance
Isabelle Kohler |Leiden University
Jwal Doctor |INTAS
Lauren Bailey |Merck 
Lewis Wharram |CPI
Micheal Witting |Helmtoltz Zentrum Muenchen
Olli Kärkkäinen |University of Eastern Finland
Omar Barnaby |Amgen
Reshma Panemangalore |Merck
Sooraj Baijnath |University of KwaZulu-Natal
Sumit Kar |Celerion
Swarna Ramaswamy |AIT Bioscience
Tomas Pluhacek |Palacky University
Xiaoyu Wang |Nanjing University
Yashpal Chhhonker |University of Nebraska
Yue Huang |AstraZeneca
Zifeng Mai |Frontage Laboratories
---
Previous years
2019 Bioanalysis Rising Star Award
2018 Bioanalysis Rising Star Award
2017 New Investigator Award
2016 New Investigator Award
2015 Young Investigator Award
2014 Young Investigator Award
---
About Bioanalysis Zone
Since launching in 2011, Bioanalysis Zone has attracted over 11,000 active members from the global bioanalytical community, representing the pharmaceutical, biotech and CRO industries, along with academia and healthcare. Each month, thousands of members visit the site to read industry news, peer-reviewed research, exclusive interviews, webinars and commentaries. Join the Bioanalysis Zone Twitter and LinkedIn group for updates.
---
About Waters Corporation
Waters Corporation develops and manufactures advanced analytical and material science technologies for laboratory dependent organizations. For more than 50 years, the company has pioneered a connected portfolio of separations science, laboratory information management, mass spectrometry and thermal analysis systems.