BMSS 2018 conference report
---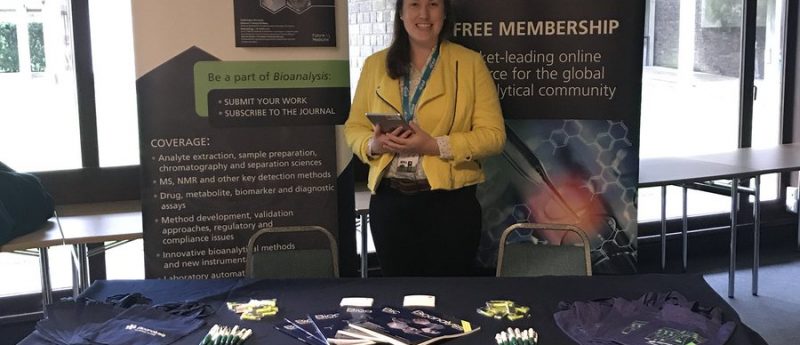 The 39th BMSS annual meeting was held from 10–13 September 2018 in Churchill College Cambridge, UK. The Bioanalysis Zone team were delighted to exhibit, attend talks, view poster presentations and network with new and familiar faces. In this conference report Naamah Maundrell (Senior Editor, Bioanalysis Zone) explores key highlights from the meeting including significant lectures from international experts.
Highlights from the annual meeting
The Maccoll Lecture – As part of this opening session, Catherine Costello (Boston University, MA, USA) highlighted strategies for glycan structural determination. She discussed the spatial proteome and how proteins end up at the correct cellular address. She gave examples for her team's experiments, which used LC–MS and MALDI-MS techniques to quantitatively detect protein post translational modifications and glycoprotein distributions. Catherine further identified the use of two different spatial proteomic approaches: fluorescent fusion proteins immunocytochemistry and proximity tagging.
The Robinson lecture – In the second keynote session, Kathryn Lilley (University of Cambridge, UK) continued to discuss the use of proteomics to probe the spatial proteome and transcriptome. She listed key factors that influence a proteins location, which included: localisation signals, interacting proteins, post transcriptional modifications and post translational modifications. Kathryn explained that up to 50% of the proteome resides in multiple locations and described the localisation of organelle proteins (LOPIT) protocol.
Impurity profiling regulatory and overview – In the Colville session stream, a key theme that was explored was the role of mass spectrometry in identifying and quantifying impurities. Elspeth Gray (MHRA, UK) presented on important regulatory considerations including: how appropriately controling impurities is key to assuring reproducible safety and how analytical techniques inevitably depend upon the required sensitivity. Alec Simpson (GSK, UK) continued the conversation by covering genotoxicity and how impurities can be identified with biological assays. He also brought in regulatory aspects by discussing that the control levels or threshold of toxicological concern is 1.5ug/day according to the EMA.
Answering the new challenges in small molecule quantification – Hosted by Reid Bioanalytical Forum, this session focused on bioanalytical challenges in quantifying small molecules. Graeme Clark (Concept Life Sciences, UK) talked through key challenges including: diversity, selectivity and sensitivity, new technology and throughput.
Read our live tweeting from the British Mass Spectrometry Society Annual Meeting (Cambridge, UK) – 11-13 September 2018 below:
---