1. What challenges did you face in outsourcing work/continuing tests during the pandemic?
---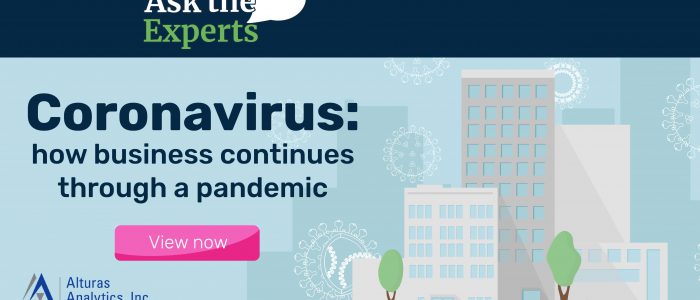 Jennifer Zimmer (Alturas Analytics)
As a CRO, we maintained continuous operation, but spread our workforce out so that fewer people were onsite at any one time. This presented some challenges with scheduling, but we adapted some of our current project management tools to allow us to appropriately schedule projects and resources. In some cases, it actually allowed us to complete critical projects more quickly, because skilled staff across departments were on site seven days a week.
---
Chris Smith (Elanco)
Elanco (Sydney, Australia) operations have continued and we have found our supplier network to be very robust during this time with only minor interruptions depending on the location of the lab. The only challenge noted was a slowing down of the data return in the initial periods of the pandemic. As time went on there was adaption of the companies to the situation and no delays were noted.
---

Jan Miotto (Metrendalytics)
Initially, more work was outsourced to CROs as pharma companies shut down or reduced their own internal lab testing capacities by restricting the number of lab personnel on site. However, CROs' lab staffing was also impacted, as scientists took time off due to concerns about contracting the virus while working at the lab or being forced to take time off since their children's daycare had been closed down due to government mandate. This reduced CRO lab capacity resulted in delays to some projects. At the same time, projects were also delayed by pharma, due to an inability to recruit subjects for studies. Proactive client communication on project delays was key to helping ensure all stakeholders were on the same page. In the long term, until a proven vaccine becomes available, it is expected that a fraction of the workforce will not return to office full time. Companies will therefore need to embrace shift hours and new considerations for space utilization.
---
The collaborative research team of Dr Kamal Dua (University of Technology Sydney)
One of the biggest challenges was the lockdown and closure of several research service provider companies where our work was outsourced for testing. Since our collaborators are based at locations across the globe, suspension of courier services hampered sending samples for testing to our collaborators labs as well.
---

The opinions expressed in this feature are those of the authors and do not necessarily reflect the views of Bioanalysis Zone or Future Science Group.
---