Portable testing device clipped to smartphone could detect pathogens in minutes
---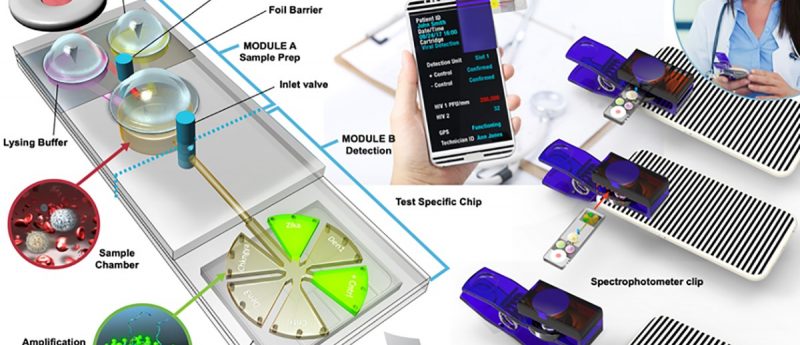 Results from a new multi-institutional study led by researchers at University of Illinois at Urbana-Champaign (IL, USA) indicate that a portable testing device clipped to smartphone could be used to detect pathogens in biological samples in minutes.
At present, the majority of viral test kits require specialist laboratory preparation and analytical techniques. One of the major bottlenecks in managing the global coronavirus pandemic is the time taken from patient swab to test result.
New research, published in Lab on a Chip, demonstrates the potential of a smartphone-based portable testing device that could be capable of detecting bacterial and viral pathogens in biological samples in approximately 30 minutes.
The new portable testing device – which clips onto a smartphone – consists of an input port to place nasal swabs or blood samples and a cartridge containing the necessary testing reagents. Following sample input, the outer shell of bacterial and/or viral pathogens is broken down to expose their RNA.
The pathogen RNA is then amplified by loop-mediated isothermal amplification on a microfluidic chip inside the cartridge. Following amplification, a fluorescent dye stains the pathogen's genetic material which glows when illuminated by a blue LED light. This fluorescence is detected by the smartphone camera.
You might also like…
On the potential impact of such a device, study lead Brian Cunningham, (University of Illinois at Urbana-Champaign) explained: "This test can be performed rapidly on passengers before getting on a flight, on people going to a theme park or before events like a conference or concert. Cloud computing via a smartphone application could allow a negative test result to be registered with event organizers or as part of a boarding pass for a flight. Or, a person in quarantine could give themselves daily tests, register the results with a doctor, and then know when it's safe to come out and rejoin society."
The team of researchers initially developed the system to detect a panel of respiratory infectious diseases from horses as a model system for corresponding human diseases such as COVID-19. The results of the study demonstrate that pathogen-spiked horse nasal swab samples were correctly diagnosed using the portable test system in approximately 30 minutes. The results indicate a limit of detection comparable to traditional lab-based PCR tests.
At present, several preparatory steps must still be performed outside of the device. However, research is ongoing to develop a fully integrated cartridge system. It is hoped that developing an easily manufacturable device could improve SARS-CoV-2 testing efforts.
Sources: Sun F, Ganguli A, Nguyen J et al. Smartphone-based multiplex 30-minute nucleic acid test of live virus from nasal swab extract. Lab on a chip. doi:10.1039/D0LC00304B (2020)(Epub ahead of print); https://news.illinois.edu/view/6367/808171
---