DESI technology and thermal desorption: top news in mass spectrometry
---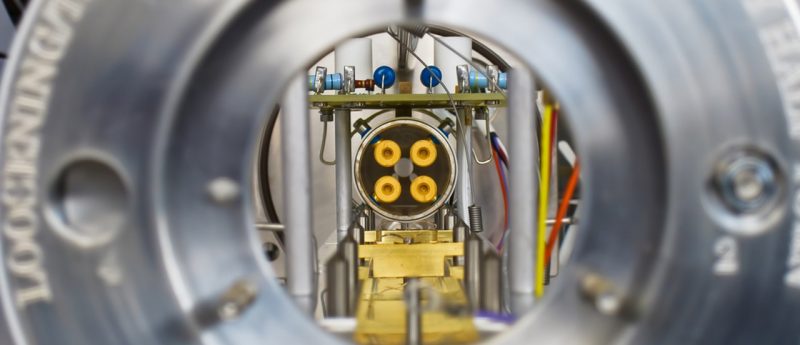 ---
Novel instrument utilizes a combination of mass spectrometry and thermal desorption to measure dynamics in uracil on a picosecond timescale
Vanessa Lok (Future Science Group)
A group of researchers has discovered a way to analyze the molecular dynamics of uracil, an RNA base, by utilizing ultraviolet radiation which photochemical processes can be documented on a picosecond timescale. The finding is published in the Journal of Chemical Physics.
The significance of utilizing both mass spectrometry and thermal desorption is the ability to show the excitation and relaxation responses of uracil molecules.. This new knowledge of uracil and its energy-dissipating properties may fuel further studies into mechanistic principles that are vital to further development of medicines and photo-dynamic therapies.
"We've shown that you can get good results from a system combining mass spectrometry and thermal desorption, and that, importantly, this enables you to expand the range of molecules to which you can apply cutting-edge spectroscopic methods – bigger, heavier and very non-volatile systems that are not easy to put into a gas phase," explained co-author, Dave Townsend (Heriot-Watt University; Edinburgh, UK).
The next step of this experiment is to identify if uracil fragments that will appear with the extended timescale, which is predicted to seem related to a ring-opening mechanism. The similar results observed between the new instrument and conventional molecular beam methods indicates the potential of thermal desorption in measuring molecular dynamics.
Sources: Ghafur O, Crane SW, Ryszka M et al. Ultraviolet relaxation dynamics in uracil: Time-resolved photoion yield studies using a laser-based thermal desorption source. The Journal of Chemical Physics. 149(3). doi: https://doi.org/10.1063/1.5034419 (2018) (Epub ahead of print).
♦
Waters acquires exclusive rights to Desportion Electrospray Ionization technology from Prosolia and Purdue Research Foundation
Rhiannon Finnie (Future Science Group)
Waters Corp (MA, USA) announced recently they have acquired the exclusive rights to Desportion Electrospray Ionization (DESI) technology for all mass spectrometry (MS) applications from Prosolia Inc (IN, USA) and Purdue Research Foundation (IN, USA).
Chris O'Connell (Chairman and CEO of Waters) explained: "The acquisition of DESI technology bolsters Waters' portfolio of MS imaging innovations, a rapidly expanding MS technique for biomedical research and related applications. DESI MS imaging provides complementary and actionable data when compared to classical histopathology imaging technologies with major advantages in analyzing the molecular fingerprint within a sample, thus delivering deeper biological insights. Ultimately, these insights will lead to better understanding of disease and enable the development of new, more effective medical therapies. "
In addition to Waters' acquisition of DESI intellectual property, Waters have agreed to provide Purdue University with a Synapt G2-Si time-of-flight mass spectrometer to assist in the advancement of research applications using DESI technology.
O'Connell concluded: "Today's announcement is an important milestone in the continued growth of DESI to the benefit of scientists around the globe. We congratulate Justin (Prosolia CEO) and the Prosolia team for their accomplishments and look forward to collaborating with Waters as it takes DESI into the future."
During the transition from Prosolia to Waters of the DESI technology, Waters will continue to support its customers with their Xevo and Synapt time-of-flight mass spectrometers, and Prosolia will continue to supply DESI technology for certain non-Waters mass spectrometer configurations until 30 September 2019.
Source: www.purdue.edu/newsroom/releases/2018/Q3/waters-corp.-obtains-rights-to-mass-spectrometry-imaging-invented-at-purdue-along-with-acquisition-of-prosolias-desi-technology.html
---