Antibody–drug conjugate drug-to-antibody ratio analysis in serum using IA-LC-HRMS
---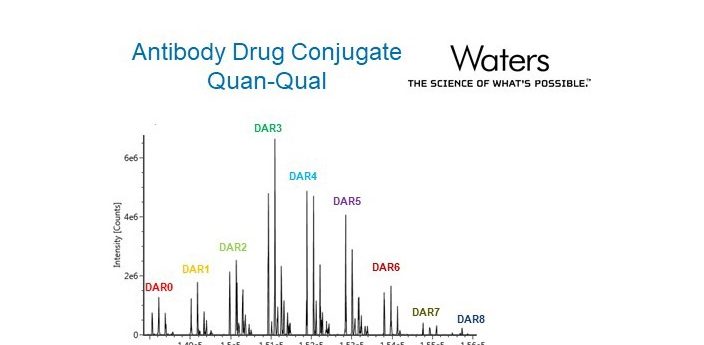 This application note from Waters discusses a robust and reliable method for the qualitative analysis and quantification of ado-trastuzumab emtansine (T-DM1, Kadcyla™), an antibody-drug conjugate (ADC).
Antibody-drug conjugates are comprised of a cytotoxic drug attached at several locations to a monoclonal antibody (mAb) via a chemical linker. As a therapy, ADCs offer sustained release and targeted delivery of the cytotoxic payload, thus increasing efficacy as well as reducing the toxicological burden.
T-DM1 is an FDA and EMA approved ADC for the treatment of HER2-positive metastatic breast cancer. For an accurate representation of exposure, bioanalytical methods for PK analysis capable of measuring all conjugated species of the ADC are desirable, however, the current gold standard – ELISA – is limited regarding the acquisition of structural information.
In this application note, Waters describe the measurement of T-DM1 drug-to-antibody ratio and drug load distribution in biological matrix at different pharmacokinetic-relevant concentrations using immunoaffinity ultraperformance liquid chromatography high resolution mass spectrometry. Download the full application note here.
---