Could you briefly introduce yourself and your organization?
---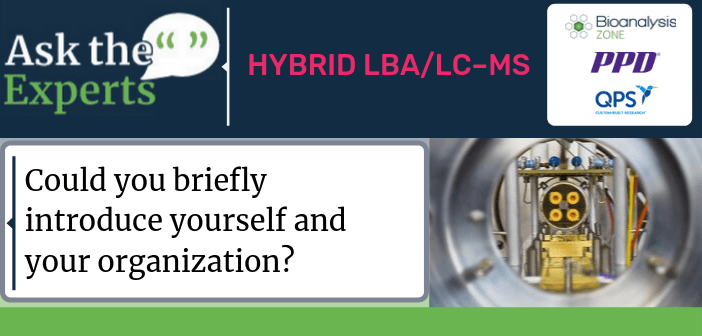 Omnia Ismaiel (PPD)


I am a senior research scientist at PPD Laboratories bioanalytical lab in Richmond (VA, USA),  an associate professor of pharmaceutical analytical chemistry, Faculty of Pharmacy, Zagazig University (Egypt) and a graduate affiliate professor and postdoctoral fellow, School of Pharmacy, Virginia Commonwealth University (VA, USA). I was a postdoctoral research associate at the University of Georgia (GA, USA). I received my pharmacy degree with honors and a master's of science in pharmaceutical analytical chemistry from Zagazig University. I received a Channel Scholarship to finish my PhD research project at Virginia Commonwealth University. I have coauthored more than 50 scientific articles and posters. I have been an invited speaker at several different conferences. I have been in the bioanalytical field for more than 13 years and have many years of teaching experience and mentoring graduate students. I am a reviewer for more than ten high impact peer-reviewed journals and serve as the editor-in-chief of Reviews in Separation Sciences Journal. My research interests include bioanalytical mass spectrometry, biotherapeutics by LC–MS, glycan analysis and high-resolution mass spectrometry.
Fabrizia Fusetti (QPS)


QPS is a full-service global CRO gathering more than 1200 employees worldwide, engaged in facilitating all stages of drug development, from early exploratory to late phase clinical. During the last 25 years, QPS bioanalytical facilities have provided support and expertise in the development and validation of quantitative assays for small and large molecules, from peptides to proteins and oligonucleotides, implementing LBA and LC–MS platforms across multiple innovative techniques.

I joined QPS (Groningen, The Netherlands) in 2014 after having spent most of my career in academia where I was involved in fundamental and applied research projects mainly focusing on the study of proteins and enzymes. I have participated in numerous collaborative projects, resulting in over 40 peer-reviewed publications and gained experience in analytical chemistry, mass spectrometry, molecular biology, biochemistry, proteomics and structural biology.

I am currently based at the European bioanalytical site of QPS, where I have contributed to the development and validation of several LC–MS methods for regulated bioanalysis of peptides, therapeutic proteins, monoclonal antibodies, ADCs and other drug conjugates.
Diego Cortes (PPD)


I am a research and development manager within the chromatographic sciences department of PPD Laboratories' bioanalytical lab (VA, USA). I received a PhD in genetics, bioinformatics and computational biology from Virginia Tech (VA, USA) in 2008. I was a post-doctoral fellow with the department of biology and the Virginia Bioinformatics Institute at Virginia Tech and the department of neurobiology at Virginia Commonwealth University in Richmond (VA, USA) . I have over 20 years of experience in scientific research in biological sciences, ranging from genomics and bioinformatics, to metabolomics, proteomics and bioanalysis. I currently manage a research and development team that is conducting bioanalytical method research and development primarily for protein biotherapeutics using LC–MS technologies.
Olivier Heudi (Novartis)


Olivier has been working in the field of analytical sciences since obtaining his PhD in Biological Sciences from the University of Angers (Angers, France) in 1999. Capitalizing on exposure gained within pharma and food companies, he has occupied positions of increasing responsibility over this period. In 1999, Olivier joined GSK (Stevenage, UK) as a research scientist to work on the linkage of LC–ICPMS–HRMS for peptide analysis in biological fluids. In 2002, he moved to Nestlé Research center (Lausanne, Switzerland) as Laboratory Head to lead the Vitamins group and implement HPLC–UV and LC–MS/MS techniques for the analysis of ingredients in foodstuffs. In 2005, he moved to the Novartis Institute for Tropical Diseases in Singapore as bioanalytical lab manager.

In 2006, he joined the Novartis PK Science group (Switzerland) as a Senior Investigator to provide and oversee scientifically robust compound progression strategies by optimizing pharmacology, biopharmaceutics, pharmacokinetics and pharmacodynamics for the rapid advancement of medical treatments and therapies from research through post-approval. Olivier's current interest focuses on the development of LC–HRMS for the analysis of intact proteins in a regulated environment. Olivier has authored over 40 peer-reviewed articles as well as book chapters on the application of LC–MS in both pharmaceutical and food environments.
Eric Ma (PPD)


I am a senior principal scientist at PPD Laboratories bioanalytical lab (VA, USA). I have been working LC–MS bioanalysis for therapeutic peptides and proteins for more than 10 years. I am the author of more than 30 scientific papers and conference presentations. I hold a PhD in chemical biology from Texas A&M University (TX, USA).
Steven Piccoli (GSK)


Steven Piccoli is currently Senior Director in precision medicine and companion diagnostics at GlaxoSmithKline (PA, USA), a global health care company focusing on pharmaceutical medicines for oncology, immunology and respiratory diseases, as well as vaccines and consumer products. As an internationally recognized expert in clinical biomarkers, he has held a wide range of scientific and operational leadership positions in consulting, pharma, biotech, CROs and clinical (CLIA) laboratories, as well as founding three medical technology-based companies. Primarily interested in clinical diagnostics, he has successfully launched over 35 commercial assays utilizing MS, LBA, IHC, PCR and DNA sequencing.
---