Bioanalysis Rising Star Award finalist: Lisa O'Callaghan
---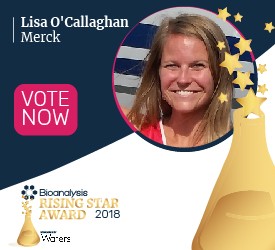 The winner will be announced in the coming months! Follow Bioanalysis Zone on Twitter, Facebook or LinkedIn to be the first to find out the winner!
Nominated by: Daniel Spellman, Merck, 770 Sumney Town Pike, West Point PA, USA; [email protected]

Supporting comments:
"Dr. O'Callaghan joined the Pharmacokinetics, Pharmacodynamics and Drug Metabolism (PPDM) department in Merck Research Laboratories in 2015 as a Senior Scientist. At Merck she has focused on the development and implementation of methodology and automation for quantitation of therapeutic monoclonal antibodies in various matrices for preclinical pharmacokinetic studies.  She quickly demonstrated herself to be creative, tenacious and a dedicated scientist.  She is a deep technical expert in the area of protein mass spectrometry. She has used this to effectively establish a strong base for pushing innovation and building a reputation as a forward thinking subject matter expert in the area of Protein Bioanalysis.  She was quickly promoted to Associate Principal Scientist and has transitioned to the role of Scientific Lead for the Protein Bioanalysis group within Discovery Bioanalytics, responsible for the development and application of LCMS to support biopharmaceutical PK studies and biomarker analysis. Dr. O'Callaghan has been a critical contributor to the establishment of large molecule bioanalytical capabilities within PPDM and Merck & Co..  Her focus has currently turned towards establishing approaches for intact protein quantitation and she leads multiple collaborations for Merck in this space with Agilent Technologies, Purdue University, and Q2 solutions.  This work has led to significant internal and external presentations and multiple publications, including oral presentations at ASMS in 2017 and 2018.  Dr. Lisa O'Callaghan is truly a Rising Star in the field of Bioanalysis and the impact of her work will be felt across the field while already influencing the way protein bioanalysis is conducted within Merck and across the biopharmaceutical industry."
1Describe the main highlights of your bioanalytical work.
The main focus of my work has been examining some of the key questions around the surrogate peptide approach to protein quantitation with LC-MS/MS. The surrogate peptide approach involves an enzymatic digestion of the intact protein into smaller, more LCMS compatible peptide pieces. Multiple reaction monitoring (MRM) is used to quantify these surrogate peptides and subsequently infer the parent protein concentration. However, due to the digestion and averaging of heterogeneity that may exist at the protein level, questions remain for this type of assay regarding what population (or mix of protein forms) is being represented. I have been working on developing methods to alleviate some of these concerns through a sequential immunoaffinity purification that should ensure a single population of protein is being quantitated.  In addition, we have looked to eliminate the digestion step completely, pursuing the application of intact protein quantitation with high resolution mass spectrometry (HRMS). I have conducted an exhaustive evaluation of sample preparation, protein separation, intact protein MS, and data analysis approaches.  We have made great strides in demonstrating that practical utility of such an approach, eliminating the digestion step completely and increasing sample throughput.
---
2How has your work impacted your laboratory, the bioanalytical field and beyond?
The work I have done around intact monoclonal antibody quantitation has been a hot topic at many of the recent conferences I have attended. As the resolution and sensitivity of HRMS instrumentation has increased, the possibility of intact quantitation has begun to be realized across many of the top pharmaceutical companies. Through this work I have built several networks with groups working on similar applications at other top pharma companies. We have had a continuously open dialogue about sample prep techniques, methods and current limitations. Most recently, I was invited to participate in an oral session at CPSA centered specifically on intact quantitation in pharmacokinetics. This session included speakers from Janssen and GlaxoSmithKline in addition to myself, all discussing our most recent efforts to improve intact quantitation.
---