Bioanalysis Rising Star Award winner: Jing Tu
---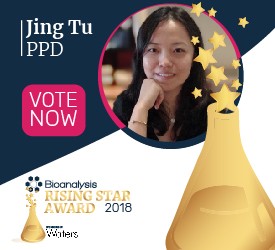 The winner will be announced in the coming months! Follow Bioanalysis Zone on Twitter, Facebook or LinkedIn to be the first to find out the winner!
Nominated by: Patrick Bennett, PPD, 2244 Dabney Road, Richmond , VA, USA; [email protected]

Supporting comments:
"Jing has consistently shown an extremely high level of leadership and strong technical capabilities since joining PPD® Laboratories.  Jing has led the integration of new technologies and implemented a systematic LBA biomarker method development strategy that significantly improved quality, method consistency and method development efficiency.  During her time at PPD, Jing has been developed a growing group of scientists.  Her team members have given presentations at international conferences and participated in the bioanalytical community.  Jing also has been heavily involved in PPD's cross-lab, cross-functional strategy development. Because of her key contributions she was awarded a PPD CEO performance excellence award in 2016.
Jing serves as a committee member of the Global CRO Consortium (GCC), the organizing committee for the APA meeting and as a member of the AAPS bioanalytical terminology team.  Jing has given presentations at the EBF, AAPS, WRIB, SQA, CPSA and APA conferences regarding biomarker bioanalytical related challenges.
In short, Jing has made multiple scientific contributions that have had a significant impact on the field of LBA bioanalysis and the PPD Laboratories biomarker lab.   She is a tremendous resource for our company and bioanalytical community.  I strongly and enthusiastically support her in the bioanalysis raising star award competition."
1Describe the main highlights of your bioanalytical work.
During my first bioanalytical job, I had the opportunity to develop and validate 11 ligand binding assays (LBA) under FDA guidelines and industry white papers.   These methods have been used by well-established national and international pharmaceutical companies to support their pre-clinical and clinical pharmacokinetics (PK), pharmacodynamics (PD) and anti-drug antibody (ADA) evaluations.
In my current role, I started a team that is dedicated to biomarker LBA method development and validation/qualification.   Important initiatives I have led include the integration of new technologies (i.e., ELLA and Quanterix) into our laboratories and the implementation of a systematic LBA biomarker method development strategy.  My team's goal is to develop customized solutions for our clients that enable a context- of-use, fit-for-purpose (FFP) approach to biomarker analysis, adapting good clinical laboratory practice (GCLP)/ good laboratory practice (GLP) or College of American Pathologists (CAP)/Clinical Laboratory Improvement Amendments (CLIA), as appropriate.
Thus far in my career, I have published two peer-reviewed papers, introduced six posters and given five presentations at international conferences such as European Bioanalysis Forum (EBF), Clinical & Pharmaceutical Solutions through Analysis (CPSA) and Society of Quality Assurance (SQA).
---
2How has your work impacted your laboratory, the bioanalytical field and beyond?
Traditionally, matrix effects, minimum required dilution, dilutional linearity, selectivity and sensitivity are evaluated from different experiments for bioanalytical methods.  Over the last decade, many discussions have been published in scientific literature regarding the conduct of parallelism experiments, but the experiment has not been considered as a critical experiment for traditional PK/PD method development and validation.
I proposed a systematic approach that can be applied to guide endogenous analyte LBA method development and optimization with a suggested way to interpret parallelism data. This approach has been implemented in my company's laboratories, which reduced method development time to five days with critical reagents available.  Similar ideas also are applicable to PK LBA method development using a 'spiked parallelism' approach.
As previously noted, I have published papers and posters, as well as given talks and exchanged ideas with industry experts, to contribute to the bioanalytical community and beyond.
---