10th WRIB Poster Award winner: Yang Xu
---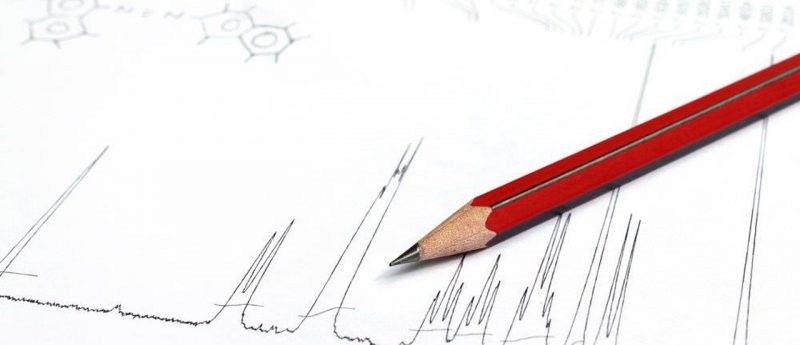 The Bioanalysis Zone and Bioanalysis team attended this year's 10th Workshop on Recent Issues in Bioanalysis (WRIB; FL, USA), 18–22 April 2016. As usual the event had a host of excellent talks by leadingexperts in all aspects of bioanalysis, with sessions on small molecules, large molecules, biomarkers, LBA, LC–MS and immunogenicity, plus a full program of training workshops and discussions for the forthcoming White Paper.
We were particularly proud to support the WRIB Poster Award presented by our journal Editor Sankeetha Nadarajah to Yang  Xu, Shaifali Gupta and Jian Chen. Here, we feature the winning poster from Yang Xu, as well as an exclusive interview.
Click here to view the poster, or click on the image below.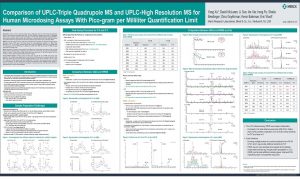 ---
Interview with Yang Xu (Merck Research Laboratories)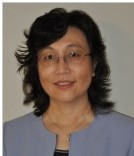 Yang Xu is a Principal Scientist in Bioanalytics, Department of Pharmacokinetics, Pharmacodynamics & Drug Metabolism (PPDM) at Merck & Co., Inc (West Point, NY, USA). She received her BS in Pharmaceutical Sciences from Beijing Medical University (China), MS in Analytical Chemistry from the Chinese Academy of Sciences (China), PhD in Biochemistry from Wesleyan University (China) and completed her postdoctoral fellowship in Molecular Biophysics and Biochemistry at Yale University (CT, USA). She joined Merck in 2001 after spending two years at Vion Pharmaceuticals (CT, USA). She specializes in developing LC-MS/MS based quantification methods for both small and large molecules to support preclinical, non-clinical GLP and clinical studies. Her research interests include evaluation of new technologies, such as microsampling (DBS, VAMS, etc.), HRMS and hybrid assays (immunoaffinity purification coupled with LC-MS/MS) for peptide/protein quantification and their implementation into the regulated bioanalysis space.
Please explain your role at Merck & Co., Inc?
I am a Senior Principal Scientist in the Regulated Bioanalytical Method Development Group in PPDM. My main responsibility is to develop rugged analytical methods that support GLP TK and clinical PK studies for small and large molecules. In addition, I am co-chair for the Microsampling Working Group in PPDM and Safety Assessment Departments to evaluate new microsampling devices (such as DBS card, Mitra, Noviplex, etc.). So far, DBS has been successfully implemented into our clinical studies, and the effort on Mitra implementation is on-going. Also, I am co-chair for the Global Bioanalysis Peptide/Protein Quantification Team to promote sharing of our best practices and experiences on LC-MS/MS based quantification across the Global Bioanalytics groups.
How does it feel to win the 10th WRIB Poster Award?
It was an honor to receive this prize, and I truly felt that the award belongs to the group of my colleagues (co-authors) who collaborated together on this project.
Tell us more about the work behind your winning poster
Our main driver for comparing triple quadrupole MS (QQQ) vs HRMS came from the presentation by Chris Evans at the 2015 WRIB meeting, demonstrating a significant sensitivity improvement using HRMS. Since our human microdosing study required super sensitive assays (LLOQ at 2pg/mL), we decided to explore the potential advantage of applying HRMS to optimize assay sensitivity by resolving isobaric matrix interferences. Since QQQ is currently the primary tool for quantitative bioanalysis due to its high sensitivity, a direct comparison between QQQ and HRMS (keeping sample preparation and UPLC conditions the same) could allow us to conclude the true difference between the two MS platforms, and help us understand the reasons behind our observations.
What conclusions can we draw from this?
Our results suggested that the sensitivity on HRMS appears to be compound dependent, and it can be comparable to that observed on QQQ MS.  HRMS may be more beneficial when applied to the relatively cruder plasma extract (e.g., through protein precipitation or LLE).  Its additional resolving power could improve signal-to-noise ratio, if specificity issues are encountered using QQQ.
What are you looking forward to working on over the next year?
The results allowed us to better understand the true benefits of HRMS, and therefore, will help us to decide when and how to use this valuable tool in our bioanalysis in the future. For example, HRMS would be a valuable alternative if we need to minimize our method development effort on sample preparation due to limited time, and a helpful tool in terms of identifying/resolving the issues with assay specificity due to matrix background or metabolite interference.
Financial & competing interests disclosure
The author has no relevant affiliations or financial involvement with any organization or entity with a financial interest in or financial conflict with the subject matter or materials discussed in the manuscript. This includes employment, consultancies, honoraria, stock ownership or options, expert testimony, grants or patents received or pending, or royalties.
No writing assistance was utilized in the production of this manuscript.
View posters and interviews from the other award winners here.
---