The Bioanalysis Zone and Bioanalysis team attended this year's 10th Workshop on Recent Issues in Bioanalysis (WRIB; FL, USA), 18–22 April 2016. As usual the event had a host of excellent talks by leadingexperts in all aspects of bioanalysis, with sessions on small molecules, large molecules, biomarkers, LBA, LC–MS and immunogenicity, plus a full program of training workshops and discussions for the forthcoming White Paper.
We were particularly proud to support the WRIB Poster Award presented by our journal Editor Sankeetha Nadarajah to Yang  Xu, Shaifali Gupta and Jian Chen. Here, we feature the winning poster from Shaifali Gupta, as well as an exclusive interview.
Click here to view the poster, or click on the image below.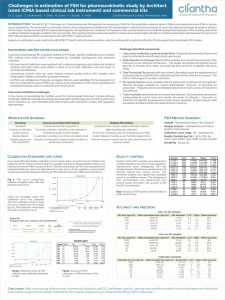 ---
Interview with Shaifali Gupta (Cliantha Research Limited)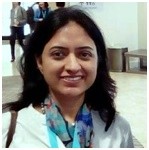 Shaifali Gupta, is the lab director at the CAP accredited clinical reference lab and leads the LBA lab involved with method development, validations and study sample analysis of large molecules at Cliantha Research limited Ahmedabad , India. She is a medical graduate with a specialization in Pathology.  She is also a certified NABL (National Accreditation Board of medical laboratories) and trained CAP assessor. Since the diagnostic lab work involves endogenous large molecules, she sees a significant overlap of work happening in the diagnostic lab arena and PK and PD work on large molecules in regulatory environment. Having worked in the clinical lab for over 15 years in the fields of clinical chemistry, immunology and hematology, there is a certain confidence on the testing of automated instruments used in the diagnostic laboratories.
Please explain about your role at Cliantha Research Limited?
At the outset, it is important to introduce Cliantha Research Limited. We are a CRO based in Ahmedabad ,founded 11 years ago, involved with end to end services for BA/BE and CT studies. We have an analytical lab in Ahmedabad and Toronto, Canada and clinics in India, and Tampa, USA.
I find myself uniquely placed to work with large molecules in regulatory environment with a vast diagnostic lab experience. We have developed a wide range of biomarker assays on a variety of platforms including Flow Cytometry and clot based assays to support the clinical trials. With the support of experienced scientists, we have also developed immunogenicity and PK methods for monoclonal antibodies and other large molecules.
How does it feel to win the 10th WRIB Poster Award?
We feel extremely privileged that our work has been noticed by the esteemed gathering of experts. It is highly rewarding as the attention generated by the award bolsters our enthusiasm to explore newer methods for large molecules.
We had initially tried to develop the method on ELISA. However, as we struggled with the sensitivity achieved and FSH molecule was already being tested by a highly sensitive method in the diagnostic lab, we planned to further develop our method on the diagnostic lab equipment using the commercial kits as per the regulatory requirements. Recognition from the esteemed community reaffirms that this thought process needs to be explored further and used to our advantage.
What were the key conclusions from this research?
The most striking aspect of this study was the high sensitivity that was possible with Architect i1000 – CMIA based machine from Abbott Diagnostics. Sensitivity is a challenge with endogenous molecules along with interferences in ELISA.
The focus of the diagnostic environment is more on safety. iVD kits may have higher sensitivity and  precision required for PK/PD studies. So in order to meet the demands of the more rugged environment and  regulatory guidelines, we had to work on the calibrators, controls and the software requirements.
As an afterthought, it would be great if the two communities (diagnostic and pharma industry) could interact closely. There could be a greater overlap of work as most of the biomarkers and endogenous molecules have also been explored by the diagnostic community on different platforms.
What plans do you have for your research over the next year?
We plan to work further on hybrid LBA/LCMS methods which are promising in overcoming the challenges of sensitivity and interference posed by some LBA methods. We also plan to explore molecular testing to widen our biomarkers test menu and add newer platforms for PK and immunogenicity testing of biosimilars.
Financial & competing interests disclosure
The author has no relevant affiliations or financial involvement with any organization or entity with a financial interest in or financial conflict with the subject matter or materials discussed in the manuscript. This includes employment, consultancies, honoraria, stock ownership or options, expert testimony, grants or patents received or pending, or royalties.
No writing assistance was utilized in the production of this manuscript.
View posters and interviews from the other award winners here.