By:
Naamah Maundrell, Future Science Group
At the World ADC Awards (San Diego, CA, USA; 21 September), PPD (NC, USA) have been named the best CRO provider for advancing cancer research. The award recognises the dedication of PPD professionals in developing new anticancer therapies through supporting ADC research.
PPD have supported ADC development programs since 2009 and their experience includes more than 100 different ADC molecules. These programs range from early development, preclinical good laboratory practice and human clinical trials.
 Chris Fikry, executive vice president of PPD® Laboratories for PPD commented: "This award is evidence that PPD Laboratories' employees are at the leading edge of ADC research and are driven to help clients succeed in combating cancer. In the past 5 years, the bioanalytical lab has completed more than 5000 studies, providing vital pharmacokinetic, pharmacodynamic and immunogenicity data to support our clients' efforts to develop new medicines to improve health."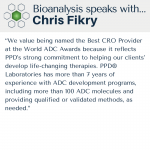 Source: www.ppdi.com/News-And-Events/News/2017/PPD-Wins-Best-CRO-at-World-ADC-Awards-for-Advancing-Cancer-Research