Ask the Experts: HRMS – where are we now?
---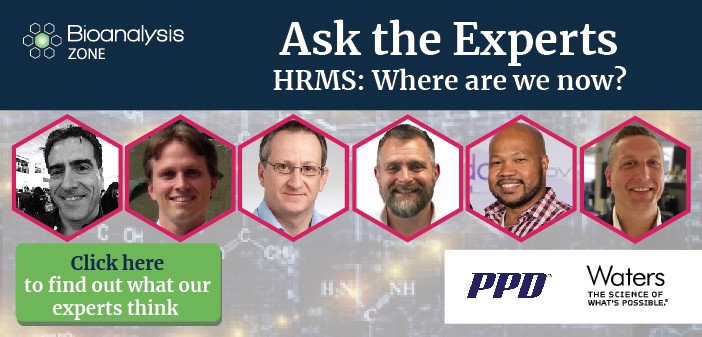 In this 'Ask the Experts' feature we will be discussing the use of high-resolution mass spectrometry (HRMS) with a number of leading experts across the field. The series will explore the role of HRMS, address the advantages and current challenges, as well as investigate the future of the technology.
HRMS has been available for a long time; originally it was applied in qualitative applications, however, the introduction of spectrometers with improved mass resolution over wider mass ranges, has allowed for the application of HRMS in quantitative workflows.
In the clinical setting, HRMS is increasingly being adopted due to its ease of operation, reasonable cost and maintenance. HRMS can also be combined with qualitative exploration of data in the small-molecule field.
To address questions raised in our previous Spotlight on quantitative HRMS and to investigate how the field has progressed over the last 2 years, key figures from pharma, CROs, biotech and academia share with us their experiences and thoughts on quantitative HRMS, giving our members a 360° opinion piece.
---
Experts
---
Questions
1 What molecules do you predominantly work with, and (how/why) do you use HRMS for their analysis?
2 Do you use HRMS predominantly for quantitative or qualitative analysis or both? Why?
3 What are the main advantages of HRMS vs triple quadrupole MS?
4 Do you believe that guidance from regulatory agencies is applicable and sufficient? What more could be done?
5 Are there currently any knowledge gaps within the field of HRMS? What could be done to overcome these?
6 What are the biggest challenges for adoption of HRMS in your field?
7 Are there any other challenges or limitations that interfere with your work that HRMS could assist with?
8 Last year, 81% of respondents to our HRMS Spotlight survey believed that HRMS quantitative and qualitative analysis would increase. What are your opinions on the future of HRMS?
9 Tandem MS vs HRMS – can you have one without the other?
---