The ABCs of bioanalysis – best of 2019
---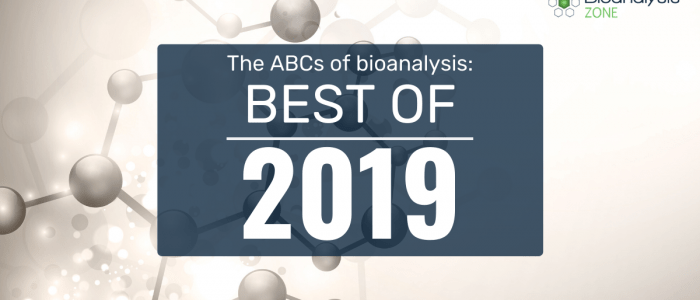 As we begin 2020, Bioanalysis Zone look back over another exciting year in the bioanalytical field. Below we breakdown 2019 into the ABCs of bioanalysis: A – asking the experts (perspectives, research, future outlooks), B – bringing you the latest (news, discussions and expert commentaries) and C – covering conferences, workshops and events.

Perspectives, research and future outlooks
In 2019 year we were lucky enough to interview a plethora of experts from academia, pharma and CROs. We asked them everything from the practicalities of flow cytometry, measuring T-cell immunity and evaluating the recent developments in the oligonucleotide field, to the possible future use of HRMS. Below we recap the most popular interviews of each format type:

Written: Tanja Jarhede (Mercodia AB, Sweden) on considerations for developing LBAs
Ligand binding assays (LBAs) proved to be a particularly hot topic in 2019. Classically, LBAs are a key method used in the quantification of large molecules and there are a number of well-established LBA formats. Breaking research focused on the development of novel alternative platforms and our interview with Tanja Jarhede expertly addressed the necessary considerations for the development and validation of novel LBAs. Tanja explained the most important factors to focus on and suggested solutions to common challenges before giving her thoughts on the future outlook of the field.
If you missed this interview first time around it's available here.

Video: Zamas Lam (QPS; DE, USA) on recent developments in oligonucleotide analysis
Since we covered oligonucleotide analysis in a 2017 Spotlight feature, oligonucleotides have featured more heavily in drug development processes. Due to this increasing relevance, this year, we spent time revisiting the topic with our interactive feature, 'the exciting world of oligonucleotides – how far have we come?'
Last year's most popular video interview examined the world of oligonucleotides. Zamas explored recent developments in the field of oligonucleotides and discussed the variety of methods he uses for oligonucleotide quantification and also the processes that have been implemented to standardize oligonucleotide analysis over the past few years.
This video interview is an insightful dive into the world of oligonucleotide analysis and is a great resource alongside our infographic and interactive supplement to get up-to-speed with all of the latest and greatest developments in the field.

Audio: David Harris (Charles River; NC, USA) on cell therapy
Over the last 4 decades we have observed pioneering research that has furthered the understanding of cellular immunology and led to the development of new technology that enables us to purify and manipulate specific immune cell types.
In our most popular audio interview of 2019, we talked to David about cell therapy. He explained what he believes are the main safety concerns, as well as the current guidance being provided by the FDA. Topics such as immunogenicity and CAR-T cell therapy are becoming increasingly more relevant in the field of bioanalysis and our interview with David Harris is the perfect way to set the scene for the current global landscape for cell therapy.
---

News, panel discussions, expert commentaries and more
News: emerging trends
At Bioanalysis Zone we strive to keep you up-to-date with the latest news in the world of bioanalysis, we covered the latest technologies, important research and a wide range of industry updates in 2019. The most popular news story detailed the development of a new microfluidic device, capable of isolating individual cancer cells from patients' blood. A more recent news story again covered the development of a new microfluidic platform, but in this case as part of the Lyme Disease detection process.
Following the news on Bioanalysis Zone is a great way to keep up-to-date with all the latest and could even be the place to spot the next emerging trend in the field. Can we expect to see more novel diagnostic assays developed around microfluidic platforms in 2020?
Panel discussions and Coffee Chats
In 2019, Bioanalysis Zone was delighted to host it's first 'Coffee Chat'. The chat focused on patient-centric sampling, a new type of workflow that specifically benefits the patient, allowing scientists to readily collect samples and data which have previously been a challenge to obtain.
If you didn't catch it, this Coffee Chat is available to watch on demand and perfectly complements two of our other panel discussions from 2019 that explore expert perspectives on data sharing and the integration of new technology in bioanalytical workflows – topics which are becoming increasingly more relevant as technology improves and readily sharing data becomes a possibility.
Expert commentary: a year of change for bioanalysis – ICH M10 and Brexit
2019 has been the witness to several globally relevant events and the world of bioanalysis has not escaped without consequence.
ICH M10 bioanalytical method validation draft guideline
Last February, the ICH published the ICH M10 Bioanalytical Method Validation Draft Guideline. Although documentation of this sort may have been expected since 2010 – when industry called to regulators to harmonize the widespread release of country specific bioanalytical guidance documents – such an important publication was unlikely to be received and incorporated into workflows without controversy.
In April 2019, 63 senior-level bioanalysts came together to evaluate and discuss the contents of the ICH M10 Bioanalytical Method Validation Draft Guideline at the 13th GCC Closed Forum for Bioanalysis. At this forum, seven teams of experts assessed the document line by line suggesting changes and amendments where they were deemed necessary.
Bioanalysis published this consolidated feedback in the 11th volume of Bioanalysis. On Bioanalysis Zone we were delighted to interview some of the experts who led the teams responsible for constructing the document. To get up-to-speed with one of the most significant recent changes in the field of bioanalysis and explore a variety of expert perspectives on the matter, check out our GCC ICH M10 feature.
Although our European (and international) audience may have had their fill of Brexit-related content, it's a challenge to comment on 2019 without mentioning it once. There is no doubt that Brexit has had a global impact and with headlines warning of 'shortages of every major type of medicine', it is clear the medical industry has not escaped scot free. Zamas Lam (QPS; DE, USA) commented in his editorial series, "While it's unclear what the final outcome will be, Brexit has already had a profound impact on the drug research and development landscape". To read more about Brexit's impact on the field of bioanalysis, don't miss this expert column.
---

Attending, reporting and informing
2019 has been another great year for conferences and the Bioanalysis team has been fortunate to attend WRIB, ASMS, the Reid Bioanalytical Forum, AAPS and EBF.
Conferences are a fantastic way to keep up-to-date with the latest research and share ideas and perspectives with experts in the field. If you want to relive our favorite moments from 2019's conferences, or catch up on any that you missed, make sure you check out our conference reports and round-ups from 2019!
As we look forward to what 2020 brings,  you can view upcoming workshops and conferences by checking our events listings – we hope to see you at a conference soon!
---