New Investigator Award 2016
Meet your 2016 New Investigator Award winner
At this year's EBF meeting in Barcelona we were honoured to sit down with your 2016 New Investigator Award (NIA) winner, Panagiotis Vorkas (Imperial College London), and Nigel Ewing from the Award's sponsor, Waters Corporation, to discuss what the Award means to them.
Watch the short video for the full interview, or read our highlights below.
NE: Waters has sponsored the NIA for 6 years and is proud to partner with Bioanalysis Zone in this investment in the community. We continue to support and encourage our new investigators to promote their career using this channel; it provides exposure for their work and the chance to present it in a peer-reviewed environment. They can then begin to appreciate and understand their efforts.
It's obvious for Waters to support the Award; as a scientific instrument company our focus has always been innovation. This is an opportunity for Waters to continue to participate with the bioanalytical community and encourage new investigators to explore their ideas and pursue their ambitions along this path. Waters wants to be a partner in solving disease and coming up with processes that augment that patient therapy, and we see this as a natural accolade for us to support.
PV: I am honoured to be this year's NIA winner; thank you all very much, to Bioanalysis and Waters for sponsoring. It has been an amazing journey, from making the decision to apply, prepare all the videos, share my work with the community and making it so far that I now have the chance to do two presentations – one here at the EBF and online though a webinar with Bioanalysis Zone. It has been amazing experience and I will definitely gain that exposure and visibility that I think every new investigator needs to present their work to the community.
It is an encouragement to work even harder and reach our scientific research goals and I really hope that in a few years you will see that I have achieved as much as previous winners have, whose achievements have been amazing.
AA: If anyone is considering applying for next year's NIA, what would you say?
PE: I would definitely recommend it – just go for it! There is nothing to lose, but so much to gain; experiences, the chance to present your work, get that external visibility. Even if you don't make it to the final you still get exposure on the Zone highlighting your work. If you do make it to the final you get the chance to make a video of your work and get to make the community aware of your achievements.
NE: I echo Panos' comments; the process is very transparent. You are encouraged to provide salient information about your research; your colleagues are now paying attention and seeing you present your work either in-front of other bioanalysts at conferences – as Panos has had the opportunity to do – or in webinars, where again you are sharing innovative work and allowing other scientists to be stimulated by the ideas you are putting out there, and encouraging them to try new things. Don't be afraid put your idea out there and let your colleagues support you in that.
Want to be part of the 2017 Award? Know a deserving college? Contact Ayan Ali now to find out how you can support the future of bioanalysis.
Useful links
---
Announcing the winner of the 2016 New Investigator Award
Thank you to everybody who voted in this year's New Investigator Award (NIA)! We are delighted today to announce Panagiotis Vorkas as the winner of the 2016 NIA. Many congratulations to him from the whole Bioanalysis Zone team!
Panagiotis was nominated by his supervisor at Imperial College London (UK), Professor Elaine Holmes, in honor of his work in developing a bioanalytical workflow for expanding metabolome coverage, which he has successfully applied in cardiovascular disease. Read more about his work and view his presentation here.
Panagiotis will be presenting his work next week at the EBF Open Symposium held in Barcelona (Spain). Be sure to keep an eye out for his webinar with Bioanalysis Zone later this month – you can register here for the event which takes place on the 30th of November.
On receiving the award, Panagiotis commented: "I am deeply honored to receive this year's NIA. Winning this award is a huge encouragement for me to continue contributing to advancements in bioanalysis. I am confident that the award will enhance my career prospects and hope to enjoy the professional success of past recipients."
This is the 6th year the NIA is running on Bioanalysis Zone in conjunction with the journal Bioanalysis and sponsored by Waters Corporation. The award has gone from strength to strength each year, with this year receiving the largest number of nominees to date. Find out more about this year's judges, nominees list and finalists.
"It's been delightful running this year's award. As ever, the NIA has gone from strength to strength each year attracting a number of hugely talented bioanalysts working on a variety of projects spanning a wide range of present day bioanalytical challenges," said Ayan Ali, Digital Editor of Bioanalysis Zone.
"I would like to congratulate Panagiotis Vorkas and to thank all this year's nominees for their hard work and contribution to the bioanalytical field."
If you know a deserving early-career researcher, click here for the 2017 nomination form – don't miss your chance to highlight the next generation of exceptional bioanalysts!
---
NIA 2016 Finalist voting closed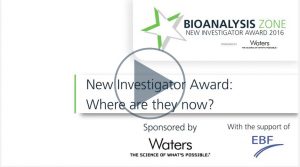 Each year, Bioanalysis and Bioanalysis Zone run the New Investigator Award (formerly known as the Young Investigator Award) to identify and reward promising early career researchers in our community.
In the run up to unveiling this year's winner, we caught up with all our previous winners to find out how they have fared since receiving the award.
Head over to the 'Where are they now' page and find out how the NIA has transformed the lives of 6 early-career researchers.
The 2016 Award is being held in association with Waters and the European Bioanalysis Forum, with the winner receiving a US$1000 prize and a year's subscription to Bioanalysis. The winner will be announced and will have their award presented at the EBF Open Meeting taking place in Barcelona in November this year, where they will also present their work.
To find out more about this years nominees, finalists and judges visit the pages below:
NIA 2016 Finalists
NIA 2016 full nominee list
NIA 2016 Judges
Bioanalysis Zone has been running the NIA for the last 6 years, find out more about our previous winners and nominees in the links below.
Young Investigator Award 2015 Young Investigator Award 2014
Young Investigator Award 2013 Young Investigator Award 2012
Also in line with nominations for this year's award, three leaders in bioanalysis reflect on their careers and give advice to new scientists in the early stages of their own career:
For any inquiries email [email protected]ce.com or [email protected]