Microflow Chromatography: A Key to More Sensitive Met ID
In early-stage pharmaceutical research, information about the extent and nature of a drug candidates' metabolic transformation is crucial in guiding lead optimization. Knowledge of a compounds metabolism can help to identify structural liabilities that can contribute to non-optimal pharmacokinetics, potentially toxic breakdown products or the potential for drug–drug interactions.
Microsomal incubations are a common in vitro approach for initial assessment of the metabolism of a compound and are commonly run as part of most drug discovery platforms. Sample volumes for these assays can be small, 50uL or less when run in plate format, and because it's important to identify as many metabolites as possible, a sensitive LC–MS/MS assay should be used for analysis.
The potential for sensitivity improvement using microflow chromatography has been well described and is being adopted in bioanalytical environments as a tool for lowering assay limits of quantitation. This work showcases the case study experiments to evaluate what sensitivity gains could be seen by switching from a traditional high flow chromatographic separation to microflow chromatography for metabolite analysis and how that translates to both numbers of identified metabolites and the confidence in those identifications.
What will you learn?
How microflow chromatography can be applied with high-resolution mass spectrometry
How microflow LC–MS/MS can be used for metabolite ID
How the added sensitivity that is afforded by microflow chromatography translates to better and more confident met ID through numbers of metabolites and higher confidence of ID through stronger spectra
Speaker: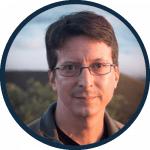 Rolf Kern
Technical Marketing Manager – Pharma
SCIEX (CA, USA)
Rolf has over 20 years of experience in LC–MS/MS analysis of both small and large molecules gained through working in both big pharma and CRO. Rolf is currently the Technical Marketing Manager for Pharma workflows at SCIEX (CA, USA) where he is the technical lead on small molecule pharmaceutical workflows.
In association with: