Webinar Q&A follow up – exploratory biomarker testing: to qualify or validate the assay? The latest scientific and regulatory considerations for biomarker validation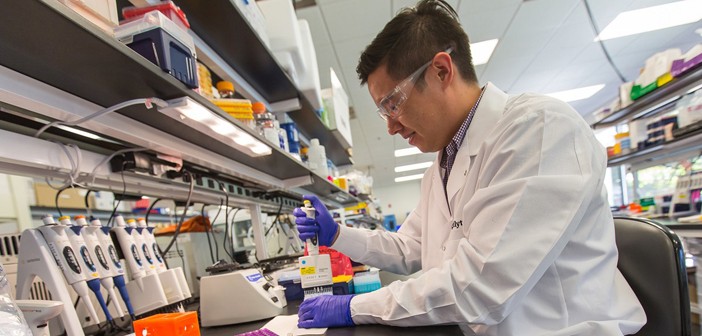 Thank you everyone who attended our live webinar 'Exploratory biomarker testing: to qualify or validate the assay? The latest scientific and regulatory considerations for biomarker validation' in association with BioAgilytix, and to our speaker, Afshin Safavi, PhD (Founder and Board Member, BioAgilytix, NC, USA), for his time. Below are his responses to the questions posed by our audience during the live event. We hope this is a useful resource and thank those who submitted these thoughtful questions.
(Q) What should you do if you do not find a matrix without endogenous levels?
(A) Not finding a blank matrix for biomarker qualification and/or validation is not a show stopper. It is more important to establish parallelism and assay sensitivity using endogenous samples verses trying to find a blank matrix to spike with a recombinant form of the biomarker.
(Q) It is difficult to find endogenous QC in long-term stability studies for multiplex assays. What is your typical approach?
(A) While it is true that the best approach is to find endogenous samples, it is not always feasible. Our approach is to find, at a minimum, samples at one level when they are not available at all levels. In the absence of any endogenous samples at any level, there is no alternative other than spiking the blank matrix with the reference material. However, it is important for the team to understand that is not a true representation of the real sample and once the first clinical samples are available from the study, they should be used to establish stability.
(Q)Can you speak about the challenges of developing a new assay from scratch?
(A) When developing a new assay from scratch, it is important to start with the context of use (COU). This should be done early in the development process in order to properly define the biomarker's intended purpose and how the assay's resulting measurements will be used. You should consider parameters such as matrix used and required assay sensitivity. This will help ensure that the assay is designed from the start to adequately meet the specific investigation's ultimate goals and will also help you determine whether a qualified assay can be used to generate sufficient data on a biomarker's potential usefulness, or if more thorough analytical validation will be required.
After the COU has been defined, the next step would be to assess the reagents that are commercially available and set up simple studies to find the best antibody pairs. To begin the optimization process, start by considering minimum required dilution (MRD) and antibody concentration. Then perform a preliminary parallelism study as soon as you have the assay semi-optimized. With initial parallelism information in hand, you can then proceed to full assay optimization.
(Q) How many samples do you usually evaluate for parallelism?
(A) The more samples you include, the better, but most scientists aim for 3–10 samples to evaluate. The good thing about biomarker assays is that, unlike PK assays, there is no need to wait for incurred samples to be available to conduct an initial evaluation of parallelism.
(Q) You mentioned the use of 'kits'. If a kit is available, doesn't that mean the assay is qualified already?
(A) Absolutely not. While 510K approved kits have undergone rigorous FDA approval processes to guarantee that they conform to strict quality system regulations for the specific patient populations, particular sample matrixes, and diagnostic windows for which they are approved, they are also not very flexible because they are validated for such specific parameters.
That means we often need to use 'Research Use Only' (RUO) kits and modify them to meet the unique needs of a drug development program and the biomarker's intended use. In fact, most kits are for RUO, in which generic optimization has been performed in a typical matrix like serum. Depending on the COU (matrix, patient population, etc.), fit-for-purpose (FFP) validation will need to be designed and performed before sample analysis.
(Q) Which parameters should be investigated when developing a biomarker assay in tumor biopsies?
(A) One can decide which parameters to investigate by looking at the COU since it outlines the practical questions to ask of the needed assay's design, such as: what patients represent the test population and are there patient population comorbidities?; how are the samples being acquired? and, what are the ultimate regulatory requirements? A large number of studies that BioAgilytix supports are in the oncology arena and we perform tumor biopsies on routine basis, but the biggest challenge that we most often need to address is assay sensitivity (depending on the biomarker of interest).
At minimum though, precision, relative accuracy, LLOQ and ULOQ and parallelism assessments are recommended. Additionally, the reproducibility of extraction and recovery methods should be evaluated.
(Q) Do you think mass spectrometry is going to be important in biomarker discovery and detection in the future?
(A) Absolutely. As the sensitivity of mass spectrometry continues to improve, it will begin to play a bigger role in biomarker discovery. It is also important to remember that the FFP status of a biomarker method is deemed acceptable if the assay is capable of discriminating changes that are statistically significant from the intra- and inter-subject variation associated with the biomarker. This requires a platform with a wide dynamic range and we turn to Meso-Scale Discovery ® Electrochemiluminescence (MSD-ECL) as a multiplex platform or DELFIA as a singleplex platform to provide a wide dynamic range with less parallelism issues.
(Q) Do you have experience in cell-based therapy biomarker work?
(A) Yes, we have performed a large number of biomarker studies in support of cell therapies. In particular, we have extensive experience with assessing CAR-T related cytokine release syndrome (CRS). As the field of cell and gene therapies continues to evolve, I am confident that biomarkers will play an important role in informing new therapeutic and prognostic strategies and in monitoring the effectiveness of treatments – and we are actively helping sponsors to realize the clinical benefit of biomarker-guided therapy.
To access the full on demand webinar and Q&A session, click here.
In association with: