Frontage Laboratories, Inc

Frontage Laboratories, Inc. Your Drug Development Partner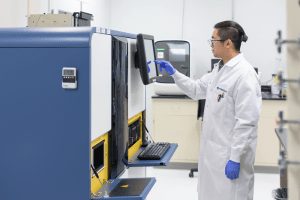 Frontage Laboratories, Inc. is a contract research organization (CRO) that provides integrated, science-driven, product development services throughout the drug discovery and development process to enable pharmaceutical and biotechnology companies to achieve their development goals.
Comprehensive services include drug metabolism and pharmacokinetics, analytical testing and formulation development, preclinical and clinical trial material manufacturing, bioanalysis, preclinical safety and toxicology assessment and early phase clinical studies.
Frontage has enabled many biotechnology companies and leading pharmaceutical companies of varying sizes to advance a myriad of molecules through development and file regulatory submissions in the United States, China and other countries.
Website: http://www.frontagelab.com/
Email: [email protected]
Telephone: 610-232-0100
Address:
700 Pennsylvania Drive
Exton, Pennsylvania
19341
USA
Twitter: https://www.linkedin.com/company/frontage-laboratories-inc
LinkedIn: https://twitter.com/frontagelabs