2017 review – top 5 features on Bioanalysis Zone
---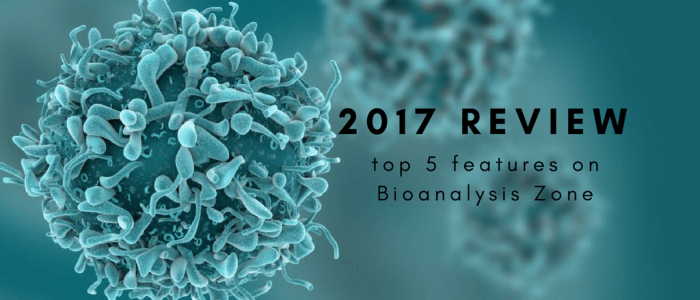 As the New Year starts, we're looking back on the bioanalytical highlights from 2017. From novel analytical instrumentation to the recent developments in the bioanalysis of biopharmaceuticals and biomarkers, over the year we covered the latest bioanalytical news, bringing you insights from experts in the field.
Below we've highlighted the top 5 features on Bioanalysis Zone from 2017, as well as our top read articles from Bioanalysis.
---
Exploring Microsampling
Microsampling continues to be a field that gains increased attention. As newer, more sensitive bioanalytical instruments and novel microsampling technologies continue to develop, facilitating the application of microsampling in simpler workflows is now easier than ever before. This special interactive supplement brings you the latest developments and leading opinions from some of the key experts within the field.
The changing world of bioanalysis panel discussion
In this panel discussion published in February key experts in the field discuss the rapidly changing world of bioanalysis. This series of talks highlights the move towards the measurement of endogenous molecules and how novel analytical instrumentation and workflows are continually being developed creating new benefits and challenges.
Spotlight: Bioanalysis of biopharmaceuticals and biomarkers
In April, Bioanalysis Zone launched a Spotlight focusing on the recent developments in the bioanalysis of biopharmaceuticals and biomarkers. As the pharma and life sciences industries continue to increase investment we explored recent developments including; ready-to-use cells in bioassays for quality control of biopharmaceuticals and current thinking on the quantification of protein therapeutic pharmacokinetics and protein biomarkers.
Bioanalysis of the future: Reid 2017
In July, Bioanalysis Zone recorded the first session of Reid Bioanalytical forum, entitled 'Bioanalysis of the future'. The session, chaired by Tony Edge (Agilent), included presentations from four other manufacturers including: Simon Cubbon (Thermo Fisher Scientific), Jason Causon (Sciex), Ian Edwards (Waters Corporation) and Neil Loftus (Shimadzu). In turn each vendor gave their insights into the future of bioanalysis ranging from new sampling devices, how we could move away from the central laboratory to clinical shops and the role miniaturization could play in the future.
New Investigator Award
This year was no exception when it comes to recognizing the work of highly talented early-career researchers. With the support of our sponsor Waters Corporation we identified four finalists for the 2017 award. In November, Matthew Lockett was named the winner of the 2017 New Investigator Award, winning the public vote after four finalists were shortlisted by the judges. The finalists included, Swarnapali De Silva Indrasekara (Duke University), Michael Witting (Helmholtz Zentrum Munchen) and Yu Shrike Zhang (Harvard Medical School), who was awarded a special recognition from the judges after a tight competition.
---
In addition, below you can find the top 5 exclusive articles on Bioanalysis Zone in 2017:
1LC–MS/MS strategies for therapeutic antibodies and investigation into the quantitative impact of antidrug-antibodies
2Advances in derivatization approaches for increasing the sensitivity of small molecules
3Reagent-free LC–MS/MS-based pharmacokinetic quantification of polyhistidine-tagged therapeutic proteins
4Quantitative determination of AVI-7100 (Radavirsen), a phosphorodiamidate morpholino oligomer (PMOplus® ), in human plasma using LC–MS/MS

5Mass spectrometry in medicine: a technology for the future?
Finally, if you would like to share your research and write for Bioanalysis Zone in 2018 we would love to hear from you – please contact Naamah Maundrell. We look forward to bringing you more bioanalytical news, videos, webinars and much more in 2018!
---